Wasp Nest Treatment
£72
Our Best Deal Today
Wasp Nest Removal fixed cost 1 visit Guaranteed Treatment
Additional Nest On Property £30
Trading Standards Buy with confidence scheme member
Book Today
★★★★★

based on

8

reviews.
Overall rating:
Wasp Nest Removal Mount Bures are professional Wasp Exterminators on hand to remove Wasps and Nests from your property we are fully insured for all Wasp Control and Wasp Infestations.
With over 20 years experience in controlling and clearing Wasp nests in Mount Bures, we
 guarantee results every time. If you have a Wasp problem we are the solution.
Contact us today on 01245 327274
During the summer months Wasp Nest Removal Mount Bures are busy treating and removing wasp nests throughout Mount Bures.
Wasp Nest Removal Essex use the safest methods of eradication for the safety of our technicians, environment and for your home and family.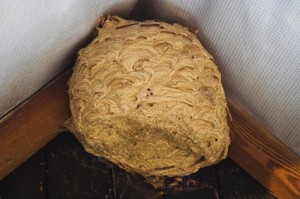 Wasp Nest Removal Essex has a team of highly trained and experienced technicians based throughout Mount Bures and London and we offer a same day service to remove your wasp nest.We are proud of our quality of service and do not sub-contract any of our work.
Our staff will assess the safest method of control and decide if the nest can be located and accessed from inside the property. An inspection of the loft or roof space will be carried out; if the nest is accessible it will be removed using a "knockdown" oil-based insecticide.
If the nest is inaccessible from the inside of the premises, then a dust formulation insecticide is applied into the wasp nest entrance. The returning wasps become contaminated with the insecticide and carry it into the nest and it is destroyed within a few hours.
Our Wasp Nest Removal and treatment services are all guaranteed. Although over 95% of wasp nests are eradicated with one treatment, if a second visit is required, then this is carried out FREE OF CHARGE.
A Wasp sting can be fatal in extreme circumstances. Wasp Nest Removal Mount Bures would recommend that you do not aggravate the nest by trying to treat it yourself. Our technicians have all the necessary Personal Protective Equipment and allow them to safely approach the nest and quickly apply the appropriate insecticide formulation.
Experienced & Professional Wasp Nest Removal in Mount Bures
Humane Methods of Control
Pricing based on Per Visit
Services Available 7 days a week
No job too big or too small
Fully Insured
Members of the British Pest Control Association
Mount Bures County Council Trading Standards Approved
For more information or a booking time contact us on 01245 327274
You can also call us at:
Basildon 01268 508120
Braintree 01376 390497
Brentwood 01277 729607
Chelmsford 01245 327274
Colchester 01206 205446
Dartford 01322 308182
Grays 01375 309032
London 020 7158 0122
London 020 8242 9976
Maldon 01621 828838
Romford 01708 715070
Southend 01702 278024
Epping 01992 827177
Harlow (01279 276122
Sudbury 01787 259416
Other services offered are: Wasp Exterminator, Wasp Removal, Wasp Nest Exterminator, Wasp Control, Wasp Control Price, Wasp Prevention, Wasp Infestation, Wasp nest in Shed, Wasp Nest in loft, Wasp Problem, Wasp nest in Garden, Wasp nest Removal Costs. We also cater for Wasp nests in Domestic and Commercial properties throughout Mount Bures.